***The previous Meat Train contest I posted just ended today at 9pm, so here's another one for you to win!***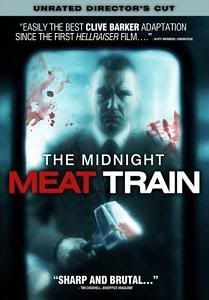 Prize :
One copy of The Midnight Meat Train on DVD signed by Clive Barker and one theatrical poster from the film (not signed).
Where :
Screenhead
Deadline :
Friday, March 13th, 2009.
How To Enter :
Follow the link above and leave a comment on there, including your name and e-mail address.
Open To :
Not specified, so i'm assuming anyone.
Only 119 people (including myself) have entered so far, so your chances of winning aren't too slim! Don't miss out on this one! I just got done watching this flick and it's one of the best i've seen in a good long while. If you wanna check out my full review, head over to
Freddy In Space
.