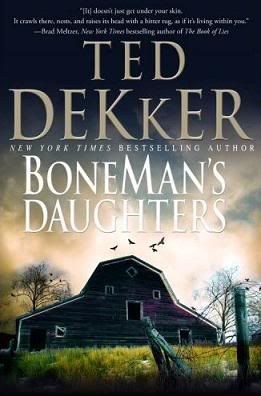 A Texas serial killer called BoneMan is on the loose, choosing young girls as his prey, His signature: myriad broken bones that torture and kill - but never puncture.

Military intelligence officer Ryan Evans is married to his work; so much so that his wife and daughter have written him out of their lives. Sent to Fallujah and captured by insurgents, he is asked to kill children not unlike his own. The method: a meticulous, excruciating death by broken bones that his captor has forced him to learn.

Returning home after the ordeal, a new crisis awaits. A serial killer is on the loose, and his method of killing is the same. Ryan becomes a prime suspect, which isn't even the worst of his problems: Ryan's daughter is BoneMan's latest desire.
Prize :
One copy of the book BoneMan's Daughters by Ted Dekker.
Where :
annecarlini.com
Deadline :
May 1st.
How To Enter :
Send an e-mail to exclusivemagazine@flash.net with the subject CONTEST : BONEMAN'S DAUGHTERS BOOKS and the answer to the following question in the body :
"Best selling authors Ted Dekker and Frank Peretti have just transformed one of their supernatural novels into a thrilling new now-on-DVD horror film, called ... what?!"
The answer is
House
.
Open To :
Everyone.