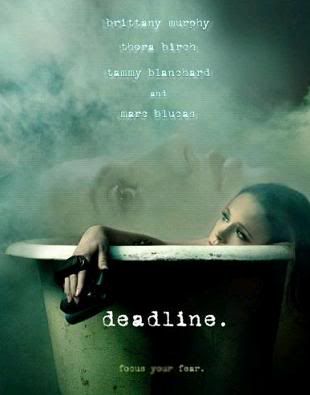 Brittany Murphy is Alice, an aspiring writer who unearths the frightening history of a young missing couple. Following a traumatic incident with her violent ex-boyfriend, Alice retreats to a remote Victorian house to convalesce and focus on finishing her screenplay in time for a fast approaching deadline. When she begins hearing strange sounds and seeing apparitions, Alice searches for the source, only to find disturbing videotapes in the attic. Fascinated by her discovery, Alice digs deeper to uncover the mysterious story of the couple (Thora Birch and Marc Blucas) on the tapes, sending her on a twisting and terrifying pursuit to find out what is behind the endless mind games.

PRIZE : Two winners will each receive Deadline on DVD.

WHERE : Need Coffee

DEADLINE (Har Har) : December 30th.

HOW TO ENTER : Click the above link and complete the form. You may enter once per day.

OPEN TO : Residents of the United States and Canada.