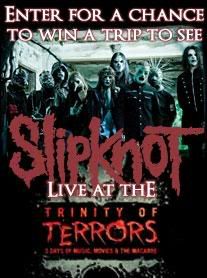 The Fangoria Trinity of Terrors is a brand new multi-media horror event taking place at the Palms Hotel and Casino in Las Vegas during Halloween. Hot Topic is going to hook one lucky winner and guest up with a trip to the festival to see all the latest in horror, music, and to top it all off, a concert with Slipknot on Halloween! It doesn't get much better than that!

PRIZE : One grand prize winner will receive two roundtrip airfare tickets to Las Vegas, hotel accomodations (1 room, 3 nights), $50 to be used for ground transportation in Vegas, and 2 three day passes to Trinity of Terrors.

WHERE : Hot Topic

DEADLINE : October 15th.

HOW TO ENTER : You need to be a HotTopic.com member to enter, so click the above link, either register or log in, and then complete the form.

OPEN TO : Residents of the United States.