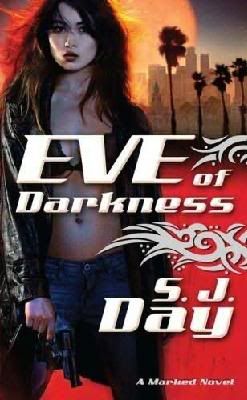 For Evangeline Hollis, a long-ago fling with a bad boy from the wrong side of the tracks just became a disaster of biblical proportions. One night with a leather-clad man of mystery has led to a divine punishment: the mark of Cain.

Thrust into a world where sinners are drafted to kill demons, Eve knows her learning curve must be short. A longtime agnostic, she begrudgingly maneuvers through a celestial bureaucracy where she is a valuable but ill-treated pawn. She's also become the latest point of contention in the oldest case of sibling rivalry in history...

But she'll worry about all that later. Right now she's more concerned with learning to kill while staying alive. And saving the soul she'd never quite believed she had.
Prize :
Eve of Darkness signed by author S.J Day.
Where :
bloodofthemuse.com
Deadline :
June 7th.
How To Enter :
Sign up for the Blood of the Muse newsletter
here
and verify your subscription via the e-mail you will receive. Once you are an active subscriber, e-mail pstotts@bloodofthemuse.com with the subject "EVE" and include the e-mail address you used to subscribe.
Open To :
Everyone.