***I normally do not post contests where you have to do more than fill out a little quick and easy form or send out an e-mail to enter, but this prize is pretty cool (only 15,000 were made and these things sell for a pretty penny) so I wanted to share it with those who might be interested in making a little video to get it. The best part about pain in the ass to enter contests like these ones is that so few want to go through the effort to enter so very few people do enter and thus, your odds of winning are quite high! This contest ends in two days and there are only 10 entrants thus far. See what I mean!***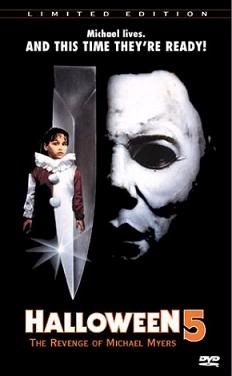 Prize :
Sealed Halloween 5 Limited Edition Tin DVD (#6,357).
Where :
FIREFOX301's YouTube Channel
Deadline :
May 13th.
How To Enter :
Click
here
to post a video response to FIREFOX301's above contest video. In the video, simply state why you want the Halloween 5 DVD. Don't waste time on production value and making an amazing video because the winner will be chosen at random from all entries anyway!
Open To :
Everyone but if you enter from outside the US and win, you will have to pay for shipping in order to get the DVD.