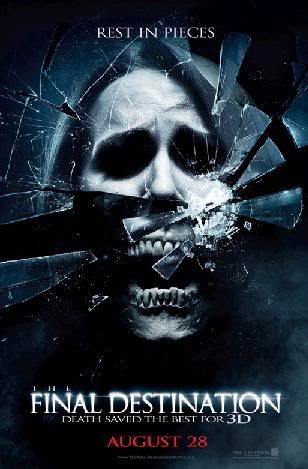 PRIZE :
One grand prize winner will win one of each of the prizes below and other runners up will get prize packages consisting of random items from the list.
- Women's Indigo, Skull T-Shirt
- Men's Green, Skull T-Shirt
- Crystal Light-up Key Chains with 3D Face
- Emergency Car Tool Kit
- The Final Destination Luggage Tags
- Real D 3D Glasses - Premium Eye Wear
- Crystal Sphere with 3D Face & Title Treatment
- Final Destination Collection: Triple Feature
Click the below link to see pictures of any of these.
WHERE :
Dread Central
DEADLINE :
Not specified, so enter ASAP to be safe.
HOW TO ENTER :
Send your name and address to contests@dreadcentral.com with the subject "THE FINAL DESTINATION Contest".
OPEN TO :
Not specified, so i'm assuming everyone.