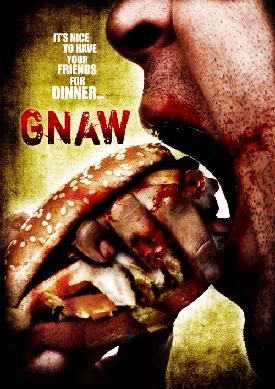 Six friends head off to a country estate for a weekend of bonding, bed hopping and home-cooked feasts. But their good times go very bad when they encounter a clan of slaughter-happy psychopaths with expert skills in butchery and a ravenous hunger for teen-meat pies. What follows is a brutal battle for survival, complete with shocking carnage, killer twists, and graphic reasons to avoid UK cuisine forever.

PRIZE : Three winners will each receive a copy of Gnaw on DVD.

WHERE : Film Fetish

DEADLINE : October 31st.

HOW TO ENTER : Click the above link, register for the sites eNewsletter if you haven't yet, and then leave a comment naming one of your favorite horror comedies, along with the name of the director and the year of the release.

OPEN TO : Not specified, so i'm assuming everyone.