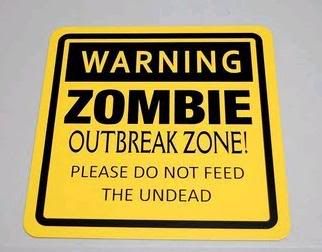 PRIZE : Grand Prize winner will receive either a Zombie Shelter or Zombie Outbreak Zone metal sign (winners choice), an I <3 Zombies license plate frame, and a bumper sticker of their choice. The Runner Up will receive the remaining sign and two bumper stickers. Both winners will also receive Zombies and Toys swag. Click below link for pictures of all of these prizes.

WHERE : Zombies and Toys

DEADLINE : Contest runs through October.

HOW TO ENTER : Send your name and address to zombiesandtoys@gmail.com with the subject 'Horror Signs'. Be sure to include your first choice of sign and sticker.

OPEN TO : Everyone.