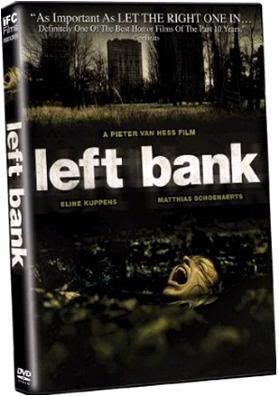 Marie is a 22-year-old world-class runner who is training for a major European race. But when exhaustion and a weakened immune system lead to a grotesque knee infection, she's forced to drop out of the competition. Meanwhile, the introverted athlete has begun seeing handsome archer Bobby, the head of an archery society that dates back to the middle ages. After she impulsively moves into his apartment in the Left Bank area of Antwerp, Belgium, she soon discovers that not only are Bobby's neighbors utterly weird, there's something strange and dark going on in the basement. And, as Marie's and Bobby's sexual passion becomes extreme, Marie's body undergoes bizarre changes and she discovers that a previous young female tenant disappeared mysteriously.

PRIZE : Three copies of Left Bank on DVD will be awarded to three winners.

WHERE : Film Fetish

DEADLINE : October 31st.

HOW TO ENTER : Click the above link, register for the sites eNewsletter if you haven't yet, and then leave a comment naming the horror film you're most looking forward to in the remainder of 2009.

OPEN TO : Not specified, so i'm assuming everyone.